Your questions, answered.
Discover how our state-of-the-art software suite can simplify compliance for your cannabis operations, while enhancing your efficiency and profitability.
If your answer to one of the following questions is a "yes", schedule a demo now!
Are you curious about how our innovative platform can help you to maintain compliance & elevate your operations to the next level?

Ready to witness the impact of our solution firsthand and ascertain its potential to boost your cannabis business?

Would you like to connect with the purpose-driven minds behind Cannavigia and discover what sets us apart?
Let's schedule your demo now!
Vigilance beyond certification
Our system provides transparency for your individual processes, interlinked by modules for the cultivation, manufacturing, distribution and marketing of goods made of cannabis and beyond.
Data protection & privacy via blockchain
The security of your data is very important to us and protected through blockchain technology. Of course the mobile app, too.
Secure seamless documentation
Documentation is essential in the cannabis business. Our software logs all your procedures & plants - easy and based on EU-GACP!
Maintain compliance simple and risk-free
Following SOP's, completing batch releases and creating reports has never been easier. No more spreadsheets needed.
Leverage your data & boost productivity
Analyse your plant's vital parameters & production processes and make data-driven decisions to unlock the full potential of your operation.
Get ready for carefree operations & compliance.
We enable cannabis businesses to trace, secure and simplify processes along the entire supply chain. Leveraging data & boosting efficiency from seed to sale.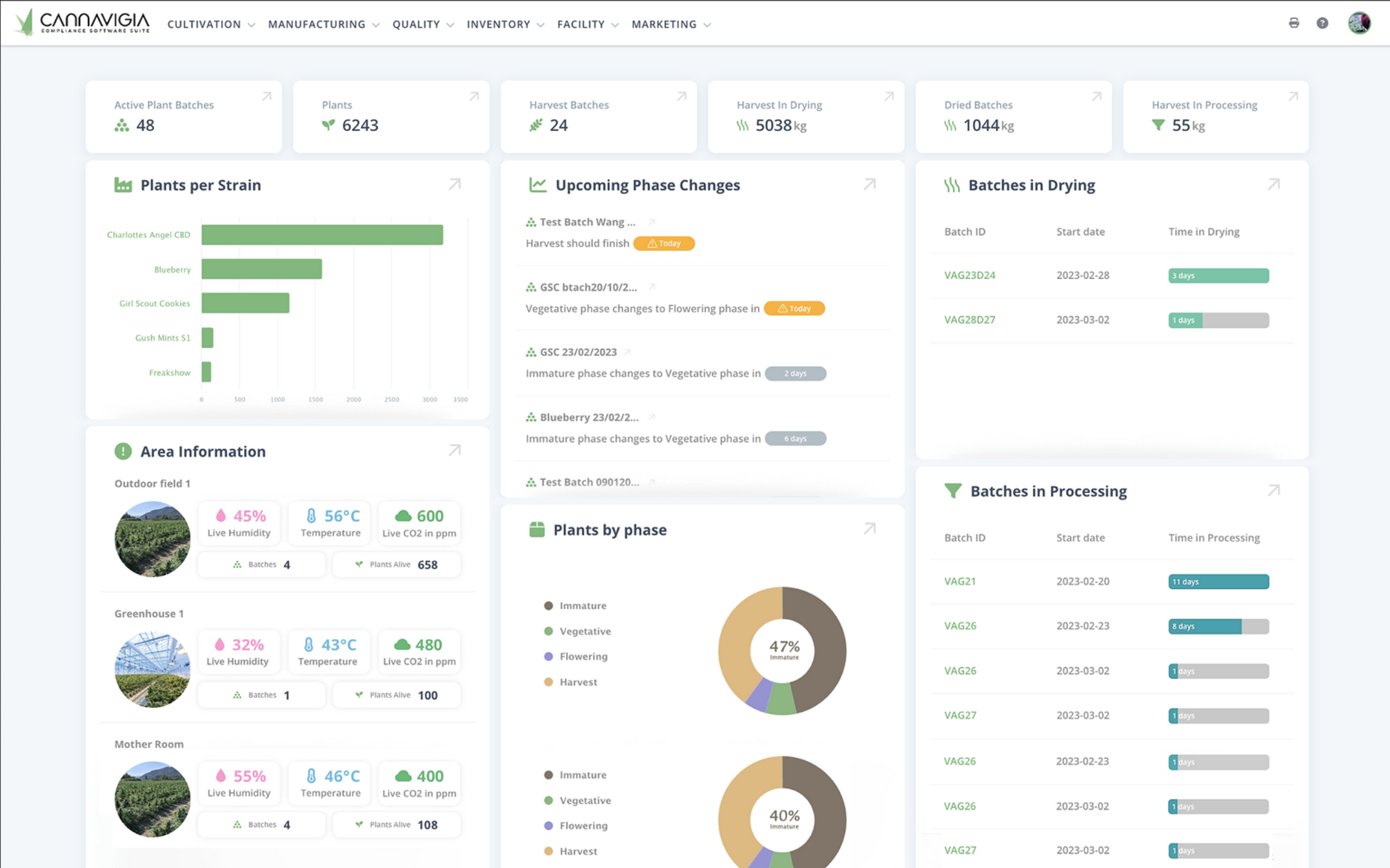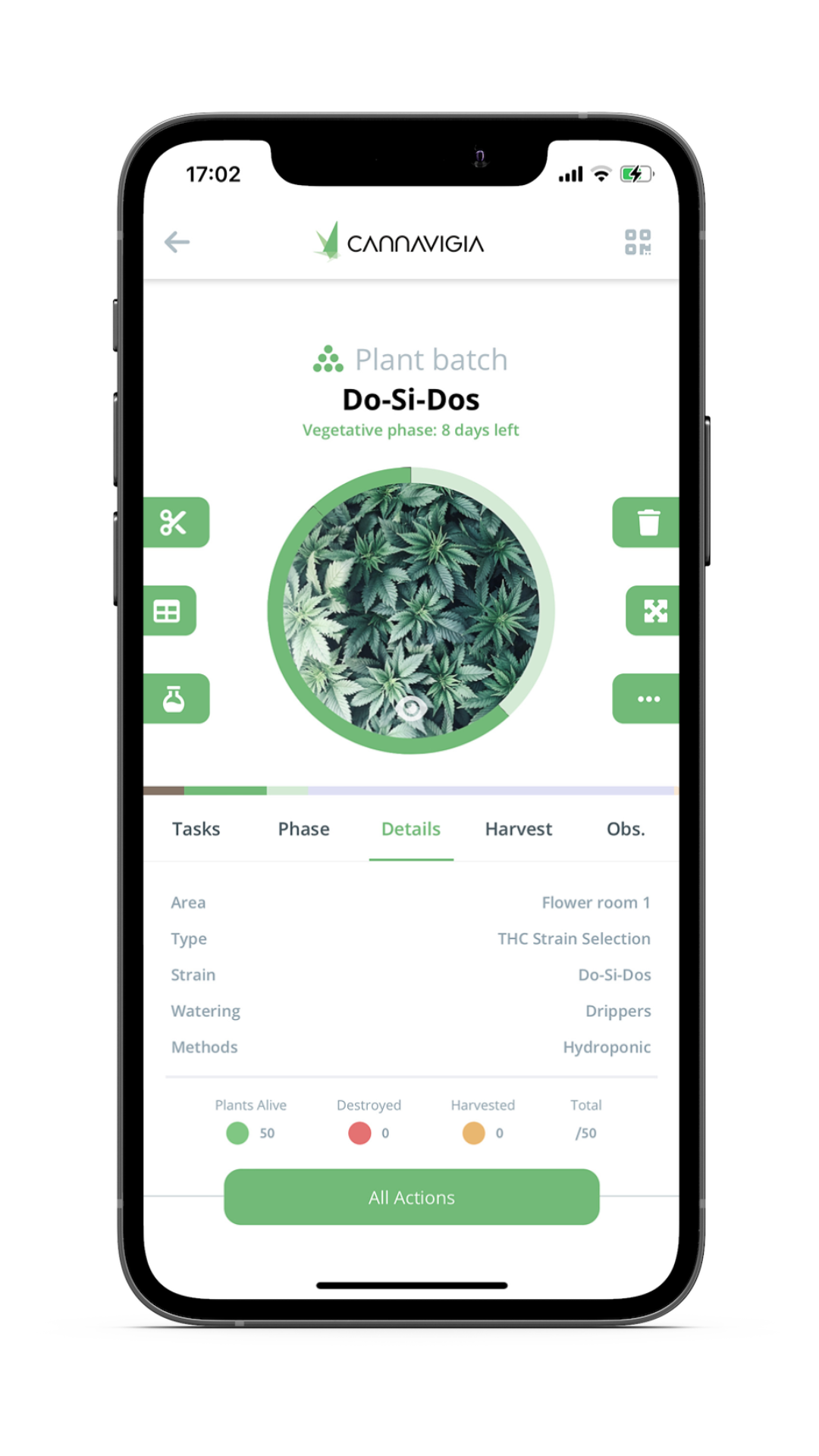 What to expect.
During the demo, you can expect to see how Cannavigia provides a comprehensive suite of compliance solutions for cannabis businesses. We will identify your needs and answer your questions. You will get to know:
Comprehensive Compliance Solutions
Including features such as process monitor dashboards, automated document generation, managing user permissions, real-time data reporting & activity log, and more, all designed to help your business stay compliant.

Digitalise Your Plants, Processes & Production Facility
To maintain compliance carefree and efficiently according to the specific needs of your business & GACP/ EU-GMP guidelines. Effortlessly stay on top of your plants and processes with our app! Get an instant overview, log tasks adn access all the details you need in one place.

Improved Efficiency and Accuracy
With streamlined processes, automated data capture, and real-time monitoring. Cannavigia can help reduce the risk of errors and streamline your compliance processes. This, in turn, can save your business time, money, and resources.
Trusted by industry leaders.
"Not only the Pure Group benefits from Cannavigia's sophisticated software. The whole industry receives added value. This step into a professional and traceable cannabis industry is a step in the right direction."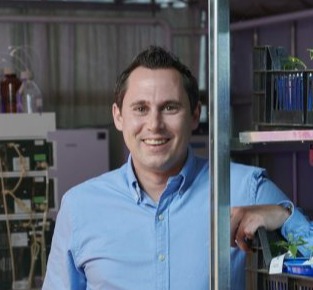 Founder | Pure Holding AG
Stress-free compliance just a click away.